The Best Seed-to-Sale Software for Marijuana Businesses
Seed-to-sale software is essential for compliant, efficient businesses. Here's what to look for in a cannabis software platform, as well as our recommendations for the best software out there.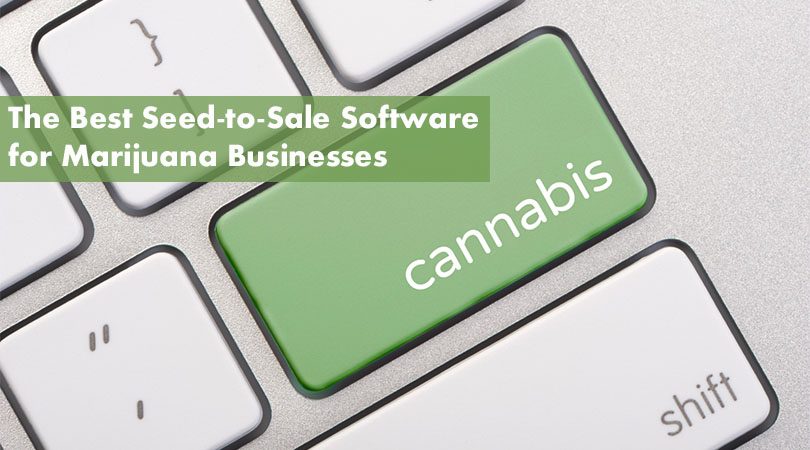 Business owners in the cannabis industry face many unique challenges, with heavy regulation requirements and numerous technicalities to get right to ensure a consistent, quality product. Software specifically designed for the needs of this still-new industry makes laborious yet essential tasks like record-keeping, data analysis, workflow planning, and compliance a breeze – while keeping close and careful track of every seed and every ounce of weed. This article covers everything you need to know about cannabis software and what it can do for your business – as well as our list of the best, most-trusted seed-to-sale software platforms.

What is Seed-to-Sale Software?
Seed-to-sale software bears many similarities to the ERP (Enterprise Resource Planning) software utilized by most large businesses, which combines all or most of a company's organizational systems into one all-encompassing platform. In addition to helping businesses seamlessly and efficiently manage operations all in one place, cannabis seed-to-sale software carries the special responsibility of tracking each and every cannabis plant through every stage of its life cycle – as the name implies, from the day the seed is planted to the day it's sold to a consumer.
Some cannabis software programs are specially designed to zero in on one or two facets of the cannabis supply chain such as cultivation or retail dispensaries, while others are equipped to handle entire vertical businesses every step of the way. Most seed-to-sale software can be integrated with equipment such as scales, scanners, and label printers, eliminating the need to run separate programs for each necessary task.
Who Uses Seed-to-Sale Software?
Software tailored to the business and compliance needs of the cannabis industry is a necessary investment for virtually all plant-touching businesses, including:
Growers
Manufacturers and Processors
Retail Dispensaries
Labs and Testing Facilities
Delivery and Logistics Teams
What is Seed-to-Sale Software Used For?
The capabilities of different software brands do vary, but generally speaking, seed-to-sale software integrates with virtually every task related to cannabis growing, processing, testing, distribution, and retail sale. Cannabis seed-to-sale software assists with the keeping of accurate records, and reporting that data to the appropriate agencies.
Compliance Reporting
Compliance reporting is one of the most important jobs of seed-to-sale software. Most countries (and individual US states) that allow the legal sale of cannabis have very strict reporting requirements and mandate the use of Track-and-Trace systems. Track-and-Trace ensures that cannabis plants (and any products produced from them) are carefully monitored from planting all the way to final sale. This level of tracking is incredibly helpful in the event of product safety recalls, ensuring accurate inventory counts, and keeping legally-cultivated marijuana securely separate from the black market.
The most commonly used Track-and-Trace platform is METRC (Marijuana Enforcement Tracking Reporting & Compliance), though some states require reporting through alternate programs, such as BioTrack THC and Leaf Data Systems. It is critical to ensure the software you adopt for your company is compatible with your state or country's cannabis Track-and-Trace program of choice.
Fortunately, most cannabis software companies have designed their products to fully integrate with one or more of these Track-and-Trace programs, ensuring your data is properly organized for accurate reporting. Some states may require additional information reporting beyond METRC (or other similar programs), so be certain to complete due diligence on the requirements for your business.
Accounting and Analytics
In the early days of the cannabis industry, business owners depended on spreadsheets and other now-archaic technology for record-keeping. Fortunately, modern cannabis accounting software makes keeping meticulous records much easier. Data analysis features assist with accurate business performance assessment, make tax filing easier, and provide a clear view of the information required to build business plans and apply for funding.
Workflow and Team Management
Proper workflow management is key to streamlined business operations. Task management software features allow managers to create automated workflow charts and perpetual schedules for recurring tasks. Information such as detailed task instructions and standard operating procedures may also be included. Additionally, some team-management software also includes employee shift scheduling and HR paperwork capabilities.
Sales and Marketing
Software with CRM (Customer Relationship Management) capability can be incredibly useful in creating and maintaining connections with past and potential clients and customers. Many cannabis software platforms can help you create and implement email and SMS marketing campaigns to keep your business on their minds.
Essential Software Features by Cannabis Business Type
Beyond the standard needs of accounting, managing employees and workflow, and maintaining a marketing presence, different types of cannabis businesses have their own specific needs.
Retail Dispensaries
Cannabis dispensaries rely on seed-to-sale software to assist with:
Keeping track of inventory from the moment it arrives until it leaves in a buyer's shopping bag
Completing the sale and collecting payment
Scanning customer ID cards and tracking purchase amounts (enforcing daily purchase limits)
Creating customer loyalty programs and tracking purchase habits over time
Allowing customers to check-in when they arrive
Processing online pre-orders
Accessing and printing daily sales reports
Integration with home-delivery companies
Creating an online product catalog, which can be integrated with the dispensary website
Informing buyers of exactly where the weed they're buying originated – a nice selling feature
Facilitating the listing of their menu on popular third-party dispensary directories
Cannabis Growers
The right technology can make an enormous impact on a successful grow operation. Cannabis growers' software can assist with:
Greenhouse planning
Crop cycle management
Keeping track of seed, plant, and supply inventory
Printing of labels and tags
Monitoring the conditions of your grow facility at all times
Tracking crop success rates, total harvest output, and quantities of discarded plant matter
Allowing staff to utilize mobile computing
Distributors
Companies that handle the transportation of marijuana rely on software to:
Forecast demand
Fulfill orders
Create manifests
Plan the most efficient delivery routes
Ensure that all delivery routes and locations are compliant with local laws, preventing the distribution of cannabis products in prohibited jurisdictions
Provide real-time GPS updates on driver locations and estimated delivery times
Extraction, Processing, and Manufacturing Companies
Companies that turn marijuana plant matter into other products – from edibles to extracts – will benefit from software that integrates with every step of the process, from forecasting production needs to creating compliant labels.
Testing Labs
For companies specializing in testing the quality and potency of cannabis, proper record-keeping and data management are critically important. Opt for software specifically designed to manage the organizational needs of cannabis labs. And cut down on data entry time with software that integrates with your testing equipment.
Things to Look For in Cannabis Software
Selecting the right cannabis software for your business is a big decision with many important questions to ask and considerations to take into account.
Data Security and Access
What measures does the software provider employ to keep your data, and that of your vendors and clients, safe from hackers or other security breaches?
How is data is stored, and how much access you will have to it? Data may be stored locally, on a physical hard drive, or in a cloud. There are benefits to both. Local storage is often more expensive but allows you more access to backups and a potentially higher level of security. Cloud storage is typically less expensive and offers the flexibility of not requiring your data to be tied to one physical location.
Will the software company sell your data or use it in any other way, and if so, which types of data?
How much access will you have to your data archives? In the event of an audit, can you get ahold of your company records quickly and easily?
Functionality and Ease of Use
Does the software have the functionality to do the tasks you actually need it to?
Will this program actually streamline processes? Will proper use of the software require more time spent on data entry – and is that time worth it?
How customizable is the software?
Consider who will be using the software and how user-friendly it is. The harder the software is to use, the more difficult and lengthy the process of training your staff (and yourself) to understand and use it will be.
Customer Support
How much help and support is available if you run into problems with the software, need help setting up, or can't figure out how to use a specific feature?
Is customer support offered around the clock or only during designated times?
Is there a fee associated with service calls or are they included in the price of the software?
What are your options if you are unhappy with the software, decide to switch to a different provider, or your company goes out of business? Some software companies require a contract and may have a set time period in which you cannot cancel your service without penalty. Review your exit strategy (and renewal) options.
Poised for Growth
Cannabis software must be malleable enough to keep up with rapid changes in this still-new, regulation-heavy industry. Not only should a software platform be able to swiftly implement necessary changes for compliance with new or altered regulations, but it should be able to accompany your business as it grows and expands. Can the software easily be extended to service multiple business locations, business types, or locations in additional states or countries? No matter how big or small your cannabis business aspirations may be, software that is regularly updated and improved is a must.
Hardware Compatibility
If you've already invested in hardware, or have your eye (and budget) set on specific computer systems and/or growing or testing equipment, make sure that you're shopping for software that is compatible with all of the hardware brands and models you'll be using.
Cost and ROI
How much your business can afford to spend on software is a highly important consideration. Of course, the goal is for cannabis software to save you time and money in the end. Take a thorough look at the features offered to assess which will truly help streamline your business operations and whether the return on your investment is worth spending a little more up-front for a better return on investment.
Remember, to also account for the labor hours required to train employees on how to utilize the software. Make sure to verify any future costs that may be incurred with the use of the software such as annual subscription fees, updates, or support calls.
Established Credibility
Since legal cannabis is one of the world's fastest-growing industries, It's not surprising that a rising number of cannabis software upstarts have entered the scene to claim a share of this expanding market. While many of these start-up software companies may very well be terrific companies offering high-quality software, it's in your own company's best interest to seek out an established software company with a great track record and verifiable positive reviews from other established cannabis industry clients.
The last thing you want is to fully integrate your business with a software platform, only to experience more bugs and glitches than you can count, shoddy customer service, or a clunky user experience. As you assess a cannabis software provider's credibility, don't be afraid to ask the company for references. Talk with other cannabis business owners with a similar structure to yours about their software experiences and recommendations. And, of course, read up on online reviews. Our list of the best cannabis software providers, below, is a great place to start your research!
Our Recommended Cannabis Software Companies