The Complete Guide to Cannabis Gummies
Everything you need to know to select, store, and enjoy the best cannabis gummies, plus our round-up of the best brands.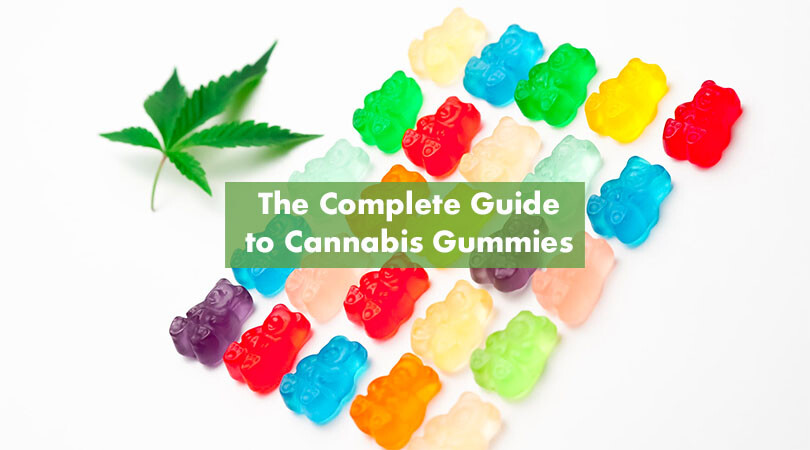 Cannabis gummies have long been one of the best-known (and tastiest!) ways to consume edible marijuana. Weed gummies are small, easy to take with you on the go, and available in a huge variety of delectable flavors and in a wide variety of doses and ratios (including CBD-only options). In this article, we'll cover everything you need to know about using, selecting, and storing cannabis gummies – including our list of the best cannabis gummies on the market today.

Cannabis Gummies – The Perfect Edible Treat
What makes gummies one of the world's favorite ways to consume cannabis? Here's what's kept cannabis gummies a beloved edible favorite:
Discretion – If you don't want to advertise your marijuana consumption to those around you, gummies are a discreet way to go. Few people in any given space will be phased at the sight of someone casually eating a few "candies."
Portability – Cannabis gummies are small enough to easily fit inside a purse or coat pocket for easy access on the go (just be sure they're inside a sealed container!).
No smoking required – Edibles are an excellent and effective smoke-free way to consume cannabis.
Dose control – It's easy to find gummies with very low per-gummy cannabinoid content, making it easy to control how much THC and/or CBD you're consuming in one sitting.
Pleasurable and Delicious – The variety of incredibly delicious flavor options and the squishy, candy-like texture of gummies make them a fun and delightful way to enjoy cannabis.
Different Types of Cannabis Gummies
THC Gummies
Traditional cannabis gummies are made with the enjoyment of THC's effects in mind. There's a THC gummy for nearly any high you desire, from focused and euphoric, to completely couch-locked, with a huge selection of high-dose, low-dose, indica, sativa, and hybrid options to choose from.
Vegan Gummies
If you follow a vegan diet or lifestyle, it's important to be aware that many cannabis gummies are not vegan. Traditional gummy recipes call for gelatin, a protein derived from the bones, cartilage, and connective tissues of animals (typically cattle or pigs), which gives them their signature texture. To make this beloved weed edible vegan-friendly, gummy manufacturers will substitute pectin (a fruit-derived fiber) for gelatin, which lends a pleasantly soft and chewy texture. Vegan weed and vegan CBD gummies are often labeled as "fruit chews" or "soft chews" instead of "gummies."
CBD Gummies
For individuals who wish to avoid THC, or who live where its use is not legal, CBD gummies are a great way to relax, enhance sleep, or experience relief from pain, anxiety, or other conditions. CBD (cannabidiol) is a non-psychoactive compound found in cannabis and hemp plants that's completely legal to use and possess in most parts of the world.
Delta-8 THC Gummies
Delta-8 THC is relatively new on the market and its popularity has exploded over the last few years. Delta-8 THC is derived from industrial hemp plants, which must contain less than .03% THC for legal use in most countries. However, industrial hemp plants do contain small amounts of THC and the 2018 Farm Bill in the USA made products containing this hemp-derived THC completely legal.
Some users report delta-8 gummies' effects are milder than those of marijuana, but delta-8 THC is psychoactive and it's entirely possible to get very high while using it. While delta-8 is legal to use and possess in the US and Canada, drug tests do not discriminate between THC types, making it possible to fail a drug test over delta-8 use, so exercise caution.
THCV Gummies
THCV (delta-9 tetrahydrocannabivarin) is a cannabinoid found in select sativa strains that's slowly gaining recognition and popularity among cannabis enthusiasts. THCV gummies, being relatively new on the market, are harder to come across, but have many devoted fans among those that use them. THCV's typical effects include euphoria, increased focus, and suppressed appetite. Like delta-8 THC, THCV derived from hemp plants is currently legal in the US and Canada only.
How to Use and Store Cannabis Gummies
Getting the Dose Right
Any time you try out a new type of edible, it's wise to start with small doses to see how it will affect you. The body processes edibles differently than inhaled cannabis, and edibles' effects can often feel stronger than smoking. Edibles, including gummies, can take around 2-3 hours to fully take effect (though you may feel some effects within the first half-hour), so be patient. You can always eat more later if you need to, but once you've taken too much, you'll be stuck riding out the high.
Fortunately, it's relatively easy to manage your dosage with cannabis gummies since the THC and/or CBD level is calculated by the gummy. Depending on your tolerance and desired effect, you could easily microdose with a single gummy (or even one cut in half) or enjoy an entire bag of gummies over the course of an afternoon.
How to Store Cannabis Gummies
Storing your edibles properly will preserve their flavor, texture, and potency for as long as possible. The number one rule of storing gummies is to keep them in an airtight container, away from sources of heat, light, or contamination. Exposure to air can significantly alter the moisture levels in gummies – either drying them out to a texture that's unpleasant to chew, or melting them into goo. Moisture can also promote the growth of mold or mildew on your edibles over time. An airtight container will prevent bacteria or pests from getting into your sugary cannabis treats, and keep the gummies from absorbing smells or flavors from other foods stored nearby. Additionally, exposure to air can speed up the disintegration of cannabinoids within your edibles, lowering potency.
Cannabis gummies can be stored in the refrigerator, freezer, or in a cool, dark, cupboard or pantry. If you opt to store gummies in the fridge or freezer, let them come back up to room temperature before eating so they'll have that signature chewy texture. Light and heat can melt the gummies and cause the cannabinoids inside to break down, so a cool, dark storage spot is essential.
Check the Use-By Date
Be sure to check the packaging for the expiration date when you bring your gummies home from the dispensary. Expired gummies tend to taste "off" and may also be less potent. Most gummies will stay fresh and potent (when properly stored) between one and two years, but this will vary by product, so always check. If you repackage gummies, don't forget to label them with the use-by date.
Keeping Gummy Edibles Secure
As with all cannabis edibles, it's essential to store gummies well out of the reach and view of children and pets. THC and CBD gummies look, smell, and taste close enough to conventional gummies that it would be very easy for a child or other unsuspecting individual to eat a whole handful by mistake! If you tend to crave sweets when you get the munchies, you may wish to tuck any leftover cannabis gummies out of your own sight, to avoid the temptation of over-indulging simply because they taste so good!
Where Can You Buy Cannabis Gummies?
THC Gummies: THC gummies can only be purchased at licensed dispensaries in countries and states where cannabis is legal. Anyone purchasing THC gummies must be at least 18 years old (or, in the US, over 21 years old without a medical marijuana card).
Delta-8 THC Gummies: Delta-8 gummies are available over the counter at head shops and a growing selection of specialty shops throughout the US and Canada (currently the only two large countries in which it is legal), as well as online. While the delta-8 market in both of these countries is still largely unregulated, the purchase of delta-8 gummies is still restricted to individuals over 21 years of age in the US and Quebec, and to those over 19 in the rest of Canada.
CBD Gummies: CBD gummies are widely available over the counter and online in most countries (including all US states) and can be purchased and used by individuals 18 years and older.
How to Select the Best Cannabis Gummies For You
With a huge selection of cannabis, delta-8, and CBD gummies out there, how can you tell which ones will give you the best results for your money? Here's what to look for when investigating a new gummy brand.
Cannabinoid Content – First and foremost, it's important to check how much THC and/or CBD each gummy serving contains. A single gummy can contain as little as 5 mg of THC or as much as 200 mg. Always select your gummies based on your current tolerance level and desired effects.
Cannabis Strain Type – THC cannabis gummies are not all created equal. Some strains lend themselves to euphoria or creative focus, while others leave users couch-locked and sleepy. Depending on how you want to feel, you have the option to choose indica, sativa, or hybrid cannabis gummies with varying THC:CBD ratios.
Added Fats for Absorbency – Some cannabis gummies are made with butter or oils high in saturated fats, which help the body absorb cannabinoids more efficiently, potentially making your edibles feel more potent.
Ingredient Quality – Of course, gummies typically have more in common with candy than with health food, but you can still opt for gummies made with better quality ingredients. Many cannabis gummy brands now use organic ingredients, natural sweeteners (like organic cane sugar instead of high fructose corn syrup), and avoid chemical additives, toxic dyes, and GMO ingredients.
Third-Party Lab-Tested – To ensure your gummies contain their labeled potency and are free of pesticides, residual solvents, or other toxins, always look for gummies that are tested and certified by a third-party lab.
Preferred Flavors – There's no need to settle for gummies in flavors you aren't crazy about. Cannabis gummies are now available in nearly any fruit or berry flavor you can imagine, as well as mint, chocolate, and several other non-fruity flavors.
Brand Reputation – Look for cannabis gummies from brands that come highly recommended and well-reviewed. Don't be afraid to ask your local dispensary staff for recommendations and do some company research before making your purchase. Our list of the best cannabis, CBD, and delta-8 THC gummies is a great place to start your search!
Our Favorite Cannabis Gummies
The Best THC Gummies Reviews
The Best Hemp Derived Delta-9 THC Gummies
The Best CBD Gummies Reviews
The Best Delta-8 THC Gummies Reviews
The Best THCV Gummies Reviews
The Best CBN Gummies Reviews