The Complete Guide to Cannabis Tourism in Denver
Here's everything you need to know to plan your marijuana vacation in Denver!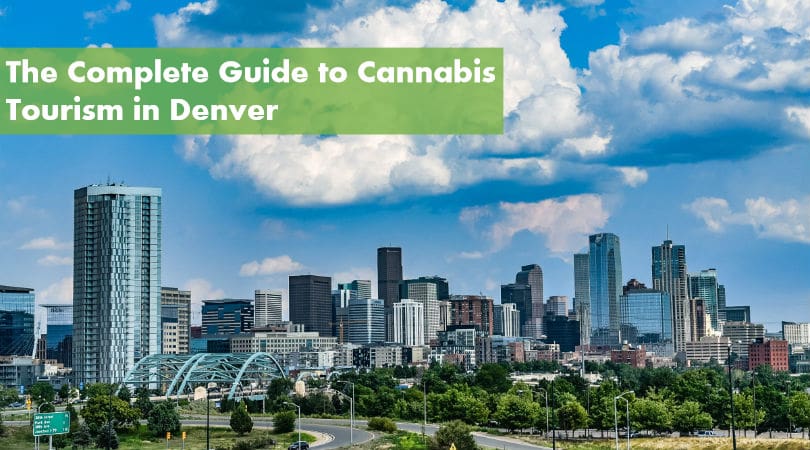 Denver is a hotbed for tourism. Apart from the celebrity tours, the capital of Colorado offers movie set tours, music tours, bus tours, food tours, and practically every exciting tour you can think of.  Since Marijuana was legalized in Colorado in January 2014, cannabis tourism is on the rise and Denver is leading the way. Today, Denver is one of the most cannabis-friendly cities in the U.S. There are approximately 620 000 people in the greater Denver area, plus scenic beauty and entertainment, all powering up cannabis tourism in Denver, Colorado. If you're a canna-curious tourist looking to have fun during your next visit to Denver, this guide has all the information you need to get oriented.
Denver Marijuana Laws
Colorado was one of the first states in the U.S. to legalize marijuana and has the most liberal law regarding the possession, buying, and selling of marijuana.
Recreational marijuana in Colorado:
Cannabis is legal in Colorado for adults aged 21 and above. You'll need to show a valid ID to be allowed to purchase cannabis products. In terms of quantity, an adult over the age of 21 is allowed to buy, possess, or transport up to 1 ounce of weed at a time. Therefore, being in possession of weed quantities exceeding 1 ounce but less than 2 ounces is considered an infraction punishable by a maximum fine of $100. Possession of recreational marijuana in quantities exceeding the allowable limits carries different penalties and sentences depending on the amount in possession.  Also, Colorado marijuana laws criminalize the consumption of marijuana in public places such as parks, sidewalks, and businesses.
Medical marijuana in Colorado:
Medical cannabis is legal in Colorado provided one has written approval from a certified physician. The law allows patients to buy and possess up to 2 ounces of medical marijuana.
Cultivation of marijuana in Colorado:
Colorado marijuana laws allow individuals to cultivate up to 6 cannabis plants per residence for personal use.
Other Colorado Marijuana laws:
It is illegal to drive under the influence of marijuana.
It is illegal to take marijuana out of the state.
It is illegal to give or sell cannabis to persons under 21.
Only licensed cannabis dispensaries may sell cannabis products.
Cannabis dispensaries can operate between 8 a.m. and midnight.
Getting Started: The Best Places to Buy Weed in Denver
Owing to Colorado's liberal marijuana laws, Denver is your one-stop destination for top-quality weed. The cannabis tourism hub has the highest number of Denver dispensaries in Colorado. Currently, Denver has more than 150 pot shops that offer the highest quality recreational weed and medical marijuana at the most affordable prices. The following are some of the best Denver dispensaries to purchase marijuana
Cannabis Dispensaries in Denver:
#1 Native Roots
Native Roots is one of the renowned Denver pot shops providing a wide range of high-end recreational and medical marijuana. This marijuana dispensary offers edibles, extracts, marijuana drinks, infused products, tinctures, lotions, topicals, salves, and marijuana accessories.  With 7 locations across Denver, Native Roots makes it easy for cannabis enthusiasts and visitors to access the best quality pot for personal use.  This recreational dispensary in Denver partners with trusted vendors to offer the best quality cannabis products at affordable prices. Native Roots also offers pre-rolled cones, live resin, shatter, wax, dab rigs, vape pens, and so much more. All their flowers and other products are extracted from naturally-grown cannabis plants. Furthermore, it has an amazing crew of budtenders.
#2 High West Cannabis
High West Cannabis is a premier marijuana shop in Denver located in1065 E 51st Ave 100. The Denver pot shop offers high-end cannabis flowers, edibles, concentrates, topical solutions, pre-rolled joints, wax, live resin, shatter, and cannabis accessories. High West Cannabis carries premium, top-shelf cookies, gummies, brownies, CBD-infused products, hard candies, topicals, ounce specials, distillate, and smoking accessories.  This Denver cannabis dispensary grows its cannabis plants on-site in flower rooms to guarantee top quality. The store is easily accessible as it is located right off the highway. High West Cannabis is purely a recreation pot store.
Concentrate Focused Dispensaries in Denver:
#3 Apothecary Farms
If concentrates are your favorite way to enjoy cannabis, you'll definitely want to visit Apothecary Farms. They are one of the best concentrate-focused dispensaries in the Denver area, offering up an impressive selection of high-quality, all-natural, cannabinoid-rich concentrates, extracts, and cartridges, all of which are curated and produced in their very own state-of-the-art facility in Pueblo West, Colorado. They do also carry several strains of flower if that's your preference.
Apothecary Farms calls a spacious and stylish medical/recreational shop in the Overland area of Denver home. They also have locations in Colorado Springs and Pueblo. Apothecary Farms is dedicated to keeping its prices affordable and offers a loyalty program where you can rack up reward points toward free gifts. They've even been known to host fun educational events for cannabis enthusiasts, such as a 3-day harvest festival spanning all of their locations.
Smoke Shops in Denver:
#4 The Headed West
One of the reputable smoke shops in Denver is The Headed West. The full-service smoke shop specializes in CBD, smoking accessories, pipes, vaporizers, glass smoking pipes, detox products, rolling papers, natural smoking blends, and many other cannabis products. The Headed West has two locations around the Denver metro area: one at 9674 E. Arapahoe Rd. Greenwood Village and another one at 418 S. Broadway Englewood. The smoke shop in Denver carries top brands to guarantee the best cannabis shopping experience.
Cannabis Dispensaries Outside of the City:
#5 Karing Kind
For those venturing beyond Denver to explore the neighboring city of Boulder, or continuing up toward Estes Park and Rocky Mountain National Park, Karing Kind is the ideal spot to stop for recreational weed. Here, you can find high-grade flower, edibles, concentrates, cartridges, and more from Colorado's top craft cannabis brands, including Karing Kind's house-brand flower and Karing Kind Labs extracts, crafted in small batches from their own top-tier strains.
Karing Kind's North Boulder dispensary location offers the advantage of the lowest cannabis sales tax in the state, and visitors can save even more with daily deals, happy hour specials, and generous discounts for members of the military and the cannabis industry. Staffed by award-winning budtenders who are happy to help you find the perfect cannabis product for your Colorado adventure, Karing Kind is conveniently located just off of US-36/North Foothills Highway and is open daily from 9 AM – 10 PM.
#6 The Republic
Another incredible Boulder cannabis spot is The Republic. Not only does The Republic offer a wide selection of flower, concentrates, edibles, and vapes at affordable prices, but it's easily one of Colorado's most beautiful dispensary locations, situated on 25 wide-open acres with an incredible view of the famous Flatirons and Long's Peak mountains. This stunning location is also home to The Republic's own cannabis farm, with an amazing selection of homegrown flower available for purchase in the dispensary.
Visiting The Republic is truly an experience all on its own, with a clean, relaxed, and modern store environment, kind, helpful budtenders who encourage visitors to take their time browsing, and specialty picks from Colorado's best cannabis brands. Their outdoor patio is the perfect spot to stop for a moment and take in the view – or it can even be rented for your own private party while you're in town! The Republic is located in East Boulder, not far from Lafayette and Louisville, and is easily accessible from US-287 or US-36. The Republic is open from 10 AM – 7 PM daily, and pre-order pickup is also available.
420-friendly places to stay in Denver
Cannabis-friendly hotels in Denver:
Cannabis tourism in Denver is booming. If you're traveling to experience some high-end pot in Denver, you'll need a cannabis-friendly hotel to stay. There are many cannabis-friendly hotels in the greater Denver area including:
#7 Arrowhead Manor
One of the Denver area's nicest bed and breakfasts, Arrowhead Manor is an elegant mini-mansion that's been turned into a cozy weed-friendly retreat. This luxurious home away from home is located in Morrison, home to the beloved Red Rocks Amphitheater, about a 30-minute drive from downtown Denver. Smoking is allowed anywhere outdoors at Arrowhead Manor and many of the suites have their own private decks – some with private hot tubs, and all showcasing stunning views of the Rocky Mountains.
Each room has a deluxe hybrid bed, a private stone bathroom with a jacuzzi tub, a surround-sound movie system, a fireplace, a coffee machine, and a mini-fridge. High-end local coffee and hot breakfast are included with your stay. Massage, facials, and other spa services can be scheduled while you're here relaxing, and a luxury shuttle is available to get you to and from the airport, Red Rocks, and other popular spots.
#8 Clarion Hotel Denver
Located at 200 West 48th Ave. in Denver, Clarion Hotel Denver offers a warm and homely cannabis-friendly experience. This hotel has the best rates for the average cannabis tourist.  The hotel has designated areas where you can smoke your legally purchased cannabis. Guests also have access to fitness facilities, free parking, ATM, and many other amenities that will have you feeling at home. Rates include full breakfast, housekeeping service, pool, and complimentary newspaper. From their website, you can clearly see that the Clarion Hotel Denver isn't shy about welcoming pot lovers into their cannabis-friendly abode.
Adventures and activities
Cannabis Tours in Denver:
#9 Loopr
Cannabis-themed city tours are a fun way to make new friends and experience the best of cannabis tourism in Denver. Loopr offers Denver cannabis tours that bring you to popular dispensaries (where you'll get special discounts), restaurants, and other hot spots. Their luxurious 14-person party bus is fully outfitted with an amazing dab bar, bong, and all the smoking accessories you'll need to enjoy the goodies you pick up along the way.
Tour options include exploring a high-end grow house, a nighttime tour of downtown Denver's hottest spots, and munchie-driven "Pizza and Pot" or "Taco and Toke" afternoon tours (with ice cream for dessert!). Loopr tours run between 2.5 – 3 hours and all riders must be 21 and up
Cannabis restaurants and lounges:
An increasing number of restaurants and lounges in Denver are finding ways to allow the consumption of legally purchased weed on-site. Here are some of the restaurants and lounges where you can smoke weed:
#10 Cultivating Spirits
Cultivating Spirits is a Denver-based company that curates a one-of-a-kind culinary cannabis experience for cannabis connoisseurs in the comfort of their house or rental property. The company pairs cannabis dinners for events such as bachelorette parties, birthday parties, and corporate events. Cultivating spirits brings the cannabis sommelier, the chef-curated menu, and exceptional food to the party.  Cultivating spirits allows cannabis lovers to enjoy world-class food while smoking weed in social settings. They offer a 3-course cannabis pairing dinner whereby they pair three different strains with three different dishes. The company accepts group bookings of 6 or more people.
#11 Habit Doughnut
Located at 1553 Platte St Denver, Habit Doughnut offers premium, chef-driven donuts in amazing flavors and cinnamon rolls.  The donuts can be infused with your favorite whiskey or coffee depending on your preferences. Some of the products you can enjoy at Habit Doughnut include malted milk glaze,  cinna-sugar honey brioche, cranberry orange glaze, bevys, cookies, and many more. Habit Doughnut also offers doughnut buffets for special events. If you're looking for a donut shop where you can experience irresistible confections and boozy injections at great prices, look no further than Habit Doughnut Denver.
Cannabis Farms
#12 Simply Pure Farm and Dispensary
Simply Pure Farm and Dispensary offers premium quality cannabis products including cannabis flower, world-class concentrates (including wax, shatter, CO2 oil, kief, hash, and live resin), cannabis-infused products, edibles, and marijuana accessories. Simply Pure's cannabis flower stands out with superior aroma, flavor, and potent effects. Their primary goal is to avail a wide variety of products and cannabis knowledge to empower patients and patrons. The marijuana farm and dispensary goes above and beyond to find cannabis products that meet the unique needs of patients and patrons. Simply Pure has professional staff to guarantee customers an exceptional shopping experience.
More fun for stoners in Denver:
#13 Spectra Art Space
If you tend to feel creative when you're stoned, Spectra Art Space could be the perfect outlet! This warm and welcoming art gallery in the Overland neighborhood offers customizable private glass-blowing classes that will leave you with a one-of-a-kind souvenir to bring home from your Denver cannabis vacation. Parties of 1-4 people (all must be 21 and over) can learn how to make their own pipes, dabbers, bongs, shot glasses, jewelry, and more.
Whether you've blown glass before or this is your very first time, these classes will meet you at your current skill level. Coffee, tea, snacks, access to the garden space, and all of the materials you'll need to make your glass piece are included with each 2-hour class. If you prefer admiring the art of others to making your own, Spectra Art Space regularly hosts trippy, immersive art exhibits that are particularly mesmerizing to explore when you're stoned.
#14 Denver Art Museum
This is one of the largest and most cannabis-friendly art museums in Denver, where you can have a good time while stoned. Located at 14 Ave Pkwy, Denver, this museum is home to more than 70, 000 works of art. Cannabis lovers can marvel at the incredible collection of Monet paintings, modern sculptures, and western paintings. The Denver Art Museum has a welcoming rooftop café and bar where you can have your favorite drink as you enjoy the breathtaking city views.
#15 Spend time in Commons Park
With its fantastic views, Commons Park is an amazing place you can spend time while stoned. Located downtown on an industrial site and right off Platte River, this 20-acre park provides a relaxing ambiance as you marvel at the downtown skyscrapers.
If you love to read while stoned, Commons Park offers a perfect environment for reading as you enjoy the scenic beauty. The park is also ideal for socializing with friends, cycling, and participating in pickup sports. The park has sidewalk cafes where you can grab a drink. The best thing about Commons Park is that it has something you can do all year round.
Denver's a perfect cannabis vacation destination
With Denver's liberal marijuana laws, cannabis tours, dispensaries, and the fun things to do while stoned, cannabis tourism in Denver can only become bigger. We hope this guide helps you enjoy your visit to Denver, Colorado.
Did we miss anything? Let us know! We'd love to hear about your favorite Denver activities for the perfect cannabis vacation!