The Complete Guide to Cannabis Tourism in Seattle
Here's where to stay, play, eat and shop to get the most out of your 420 vacation in Seattle!
Seattle, Washington, nicknamed "the Emerald City," is the perfect destination indeed for a very "green" vacation! Recreational use of weed is legal in Seattle and all of Washington state (except for Federal spaces such as state parks or airports), by anyone 21 or older – even if you're just visiting. Please note that cannabis use is legally restricted to the privacy of your own home (or your 420-friendly lodging).
We encourage you to enjoy your weed vacation safely by making use of Seattle's accommodating public transit system, taxis, ride-sharing services, or by exploring Seattle's walkable downtown areas on foot. In fact, strolling through the beautiful walking paths, parks, and neighborhoods of Seattle is one of the best ways to enjoy your cannabis high, says Jason Green, manager of the popular dispensary Ganja Goddess.
From cannabis-themed tours and dispensaries that will have you feeling like a kid in a candy store to trippy museums, light shows, and out-of-this-world munchies, our list of the best things to do on a Seattle marijuana vacation has activities to suit every type of stoner!

---
First things first: where can you buy weed in Seattle?
Some of the finest (and most environmentally-friendly) weed in the United States is grown in the Seattle area. Several local farms, such as Hollingsworth Cannabis Company and Puffin Farms, are dedicated to cultivating their cannabis without the use of toxic pesticides. In addition, Hollingsworth runs its sustainable farm on solar energy, and Puffin is Clean Green Certified (the weed equivalent of "organic"). Many of Seattle's cannabis shops proudly sell local marijuana from these and other farms.
Anyone over 21 with a valid horizontal ID card can buy recreational weed, but the cannabis must be consumed in Washington state. Please note that Seattle dispensaries do not allow sampling or consumption of cannabis on-site. There are tons of great dispensaries scattered throughout the Seattle area. Here are a few of our favorites – all of which stay open from first thing in the morning until 11 pm or later most days:
Cannabis dispensaries in Seattle:
#1 Cannabis City
Veteran and Doctor-owned Cannabis City was Seattle's very first recreational cannabis shop, opening its doors in 2014. And they continue to offer high-quality cannabis products and stellar customer service today! The first purchase of legal recreational cannabis in Seattle was made at Cannabis City – an event so significant that those original 2 grams of "Sweet Lafayette" now sit in an exhibit at Seattle's MOHAI (Museum of History and Industry)! The grand opening also included notable purchases by city attorney Pete Holmes and Alison Holcomb, the architect of the I-502 legalization bill.
Still going strong today, Cannabis City strives to offer "something for everyone," catering to a variety of needs and price points. Their staff of budtenders share a passion for cannabis and helping people. Founder Dr. James Lathrop (who is furthering his knowledge of cannabis therapeutics in the University of Washington's Ph.D. program) also makes himself available to answer your questions via email on Cannabis City's website. Cannabis City is the closest cannabis shop to the light-rail system, only a block away from the SODO station (a quick and cheap ride from downtown or Sea-Tac). Or, you can hitch a free ride on their mini tour bus!
Cannabis City Tours give you a free up-close look at Seattle's first licensed marijuana growing facility, Dawg Star Cannabis, and free round-trip mini-bus rides to Cannabis City from Pike Place Market, Pioneer Square, and Waterfront Park. Tours run every 45 minutes and you can secure a spot in advance for a $20 refundable deposit. Or, just flag down the bus and hop on for free if you see it in your area! You can also call to arrange pick-up in another location.
Cannabis City frequently runs special deals, and they have a loyalty program you can join to earn extra discounts and free gifts. Plus, you'll get 10% off regularly-priced items if you visit on your birthday, wear a game-day jersey, are a veteran or member of the U.S. military, are age 55 or older, or have a medical marijuana card. You can pre-order online for express pick-up, too. Cannabis City accepts cash and debit card purchases, and there is an on-site ATM for your convenience.
#2 Ganja Goddess
One of Seattle's oldest cannabis shops, and the first woman-owned one, Ganja Goddess, has grown up right alongside the city's legal cannabis market. While cannabis is certainly not used and embraced by everyone in Seattle, Ganja Goddess's general manager, Jason Green, describes it as a "widely tolerated niche." People out for a morning or evening "joint walk" are not an uncommon sight (of course, please bear in mind that public consumption of cannabis is not actually legal in Seattle).
When Ganja Goddess first opened its doors back in 2014, legal cannabis prices were outrageous, the quality was questionable, and the packaging was very basic. But now, Ganja Goddess is one of Seattle's best cannabis shops, offering the biggest selection of high-quality strains, edibles, and concentrates in the city – at great prices, and in packaging pretty enough to sit on the shelves at Whole Foods!
Located in the Central Industrial District (which is actually a hotspot full of nightclubs and restaurants), this stylish and personable shop runs daily specials, including a "wake and bake" morning happy hour most days of the week, and a rewards program with a special offer just for signing up. You can pre-order your weed online (at a discounted rate), and Visa and Mastercard are accepted. Ganja Goddess is a stop on Show Me Seattle's Herban Adventure tour, and they also host regular "meet the vendor" events.
#3 Green Collar Cannabis
Located in nearby Tacoma (close to Parkland and about a half-hour from Sea-Tac), Green Collar Cannabis is dedicated to selling a wide variety of high-quality cannabis products, and their knowledgeable and friendly staff aim to make every customer feel welcome. They also offers a 10% discount for tribal members, veterans, and medical marijuana cardholders.
Green Collar Cannabis is open 8 am – 12 am every day (even Christmas Day!) so that you'll never be without weed when you need it! You can even pre-order online. An ATM is available on-site, as Green Collar Cannabis is a cash-only dispensary.
Green Collar Cannabis has more exciting fun on the horizon, with cannabis boat tours slated to begin in the near future. Green Collar Cannabis invites you to contact the shop for more details on their tours as they become available.
#4 (Lux) Pot Shop
(Lux) Pot Shop offers an impressive selection of high-quality (and all Washington-grown) cannabis products in their beautiful, inviting shops. (Lux) places a high value on community, education, and culture that shows in everything they do – from local art showcased in their shops, to the many local organizations (Lux) supports and makes donations to. (Lux) even sponsors several rising-talent musicians from the Seattle area.
All of (Lux) Pot Shop's budtenders receive top-notch education about cannabis and the products they sell – so they can transfer that knowledge to you! (Lux) currently has 2 Seattle locations (Ballard and Lake City) and a third is scheduled to open very soon in Fremont. You can browse their menus and pre-order your weed online. If you join the (Lux) loyalty program, you'll even get 15% off your very first purchase! (Lux) is a cash-only shop, but they have ATMs on-site.
#5 Mary Mart
Mary Mart, located in Central Tacoma (easily accessible from interstate 5), is one of the Seattle area's top cannabis shops. Their weed selection has been carefully curated to bring you a huge selection of the highest quality products at a variety of price points. Their fun, friendly, and highly knowledgeable staff make cannabis shopping a breeze for first-timers as well as regulars. The shop is spacious and stylish, complete with a comfy seating area. And there is plenty of space to park, too.
You can sign up for Mary Mart's rewards program, and take advantage of a variety of "daily specials" and sale events. Veterans get an everyday savings of 10%, and so does anyone who visits on their birthday! You can browse their exceptional product inventory online before you go, and pre-order for pickup if you're in a hurry.
Mary Mart is a family-owned and operated shop, and they are dedicated to involvement with the local community – including providing education about cannabis to the public. They also support a number of local events (such as the Tacoma Night Market and Art on the Ave) – and host some of their own – that give local artists, musicians, and comedians the opportunity to showcase and share their art.

---
420-friendly places to stay
Each of these weed-friendly Seattle hotel alternatives is an experience in its own right! Whether you want to stay in a place you won't even want to leave, or just need a place to crash after long days of adventure, these gems fit the bill.
Cannabis-friendly hotels in Seattle:
#6 Mountain Views Tree House B&B Retreat
What could be more fun than getting stoned in a treehouse!? At Mountain Views, you can stay in one of 3 uniquely styled treehouses, aptly named The Pot Leaf, The Hashtag, and The 420.  This gorgeous weed-friendly retreat is located on a farm, complete with quirky animals – including a pig named VeggieMight who loves to play dress-up, and an African grey parrot with a swearing habit.
Mountain Views is a destination in its own right, located one hour northeast of Seattle in Monroe, Washington. The farm is easily accessible from U.S. Route 2 and is also very close to Wallace Falls State Park. Mountain Views' guests all must be 21 and over, and at this time, pets are not allowed to join the menagerie.
In addition to the treehouses, you can rent individual rooms in the farmhouse, or set up an RV or camping tent on the property. If you don't plan to stay overnight, you can still purchase a day pass (available Mondays-Thursdays) to hang out and enjoy the amenities of this beautiful property (including an outdoor hot tub). Or, you could book all three treehouses for your group, or the entire farm if you want to host a wedding, house party, or other events.
#7 Bed Baked and Beyond
It's easy to see why this gorgeous and unique bed & breakfast spot receives so many rave reviews. Bed Baked and Beyond is a large Victorian home close to downtown Seattle that can accommodate up to ten guests (a downstairs room is available if stairs are a challenge for you). There is a fire-pit and flower garden in the backyard, as well as a covered potting shed-turned-smoking lounge, aptly named "The Pot-ting Shed" so you'll be able to comfortably light up a joint no matter what the weather (all smoking is outside of the main house). Inside, in addition to your private bedroom, there are several beautifully decorated common rooms to relax in, complete with a record collection and turntable for music lovers.
A breakfast of seasonal fruit, homemade gourmet muffins, and organic coffee and tea is included with your stay. In the evening, you'll be invited to sample a complimentary craft beer (one of the owners is actually a professional beer appreciator). Bed Baked and Beyond warmly welcomes visitors of all races, genders, and sexualities. Booking is currently handled via their AirBnB page.
#8 The Green Tortoise
The Green Tortoise is a hostel in the heart of Seattle, walking distance from the famous Pike Place Market, tons of restaurants (including El Borracho and Top Pot Doughnuts!), the Seattle Aquarium, and the Seattle Art Museum. It's easy to meet new like-minded friends at the Green Tortoise! In addition to a comfortable smoking lounge, foosball table, and a fully-equipped communal kitchen, the Green Tortoise hosts a free ice cream social twice a week as well as group activities like pub crawls and city walking tours.
The Green Tortoise is clean, modern, and offers private rooms for those who don't like dorms. In the dorms (female-only and co-ed are available), each bed does have privacy curtains and a reading light. You'll also get a storage locker. No matter which part of the hostel you are staying in, all of the bathrooms are private (shower and toilet) with locking doors. The wi-fi is free at the Green Tortoise, and so is a hearty breakfast!
---
Adventures and Activities
Now that you've got your stash and a place to stay, what do you want to do now? These are our favorite ways to spend a stoned day in Seattle:
Cannabis tours
Seattle visitors aged 21 and older can get a behind-the-scenes look at the city's blossoming cannabis industry with these cannabis-themed spins on the typical city tour.
#9 Show Me Seattle's Herban Adventure
Show Me Seattle is a tour company known for its entertaining and interestingly-themed tours. Their Herban Adventure cannabis tour gives you a fun and unique look at Seattle's legal cannabis scene. Each tour takes you through a cannabis production facility, a cannabis garden, and a well-known dispensary (Ganja Goddess is in their rotation).
Herban Adventures visits one set of 3 featured stops on Mondays, Wednesdays, and Fridays, and a set of 3 others on Tuesdays, Thursdays, and Saturdays. The 2.5-hour bus tour runs twice a day (morning and afternoon) and currently runs $99 per person. The pick-up and drop-off location is Westlake Center, a popular shopping area just a few blocks away from Pike Place Market and Seattle Center. If you are traveling in a group, you can even book your own private Herban Adventure! Private tour groups can be picked up and dropped off at any hotel in the greater Seattle area.
#10 Seattle Green Adventures
If you'd prefer to experience your cannabis tour from the backseat of a 10-passenger limo, Seattle Green Adventures is the tour for you. Seattle Green Adventures weaves cannabis history, science, and culture into each of their 3 different tour packages. If your flight gets in on a weekday, the 1-hour Airport Welcome Tour can pick you up from Sea-Tac, bring you directly to a featured cannabis shop, and then drop you off at your hotel (within a 15-mile radius of downtown).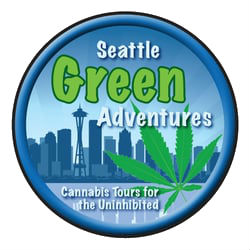 The standard Seattle Green Adventures Tour operates 7 days a week and the limo will pick you up for it anywhere within that 15-mile downtown radius. This 4-hour tour gives you the VIP experience at 2-3 cannabis shops as well as a look at either a cannabis growing operation or glass blowing studio (depending on the day). You can even spring for a premium customizable tour, which, in addition to the standard stops, can include visits to some of Seattle's most popular sites, a cannabis and wine dinner, or even an edibles-making class.
Rates start at $119 for the Airport Welcome Tour and can vary quite a bit, depending on how many people are in your party (larger parties pay less per person) and, of course, on which activities you include in your Premium Tour.
#11 Mile High Canna Tours
You can make new friends, learn more about how weed is grown, and consume some while you take in the beautiful sights of downtown Seattle on Mile High Canna Tours' classic "Canna-Bus." These fun and educational 3.5-hour tours take you (and a small busload of fellow cannabis enthusiasts) on a city tour that includes visiting two local cannabis farms and a dispensary. If you opt for the "gold" package, you can also enjoy a private smoking and painting session after the tour.
Mile High Canna Tours run Wednesday through Sunday, once in the morning and once in the afternoon.
The country's biggest cannabis festival calls Seattle home
#12 Seattle HEMPFEST
If you happen to be in Seattle in the middle of August, HEMPFEST is definitely worth checking out. This world-famous annual cannabis-activism event has been running for over 25 years. HEMPFEST is a 3-day festival hosted in Myrtle Edwards Park, a waterfront park close to Seattle Center. HEMPFEST always attracts an impressive array of speakers and guests, from Congressmen to celebrities (including actor Woody Harrelson) – not to mention live music and hundreds of vendors.
HEMPFEST is entirely staffed by volunteers, and admission is free. This festival is more than a place to celebrate your love of weed with like-minded people. At its heart, HEMPFEST is a political rally for social reform; "Protestival" is their term of choice.  It is important to note that HEMPFEST is a great place to show your support for cannabis, learn from the speakers and vendors, and meet other weed enthusiasts, but it is illegal to use cannabis in Seattle's public parks, so plan your trip accordingly!
Seattle attractions that are way more fun with weed
You can enjoy an amazing day of activities without even leaving the heart of Seattle Center (which is easily accessible via Seattle's light rail system). Most of these destinations are less than 5 minutes' walking distance from the Space Needle, Seattle's most famous downtown landmark.
#13 Meowtropolitan
If you love being around snuggly, entertaining animals when you're stoned, Meowtropolitan is sure to delight you! Meowtropolitan is a cafe with its own "Cat Lounge," where you can hang out with 10-15 adorable shelter cats (as well as Meowtropolitan's 6 permanent resident felines). The cats get to enjoy a fun and engaging playroom, including all sorts of creatively built-in cat trees – plus tons of love and attention from their human visitors.
For $13 per person (which includes a beverage), you can enjoy a 50-minute visit to snuggle, pet, and play with the cats. You can also view the cat lounge behind glass from inside the cafe if you'd rather just watch. The chai latte and meowca, even come with cat face latte art! Meowtropolitan also regularly hosts yoga classes and instructor-led wine and painting nights inside the cat lounge.
You can visit the cats on a walk-in basis, but capacity is limited, so it's a good idea to book in advance. The cat lounge (but not the cafe) is closed on Mondays, and from 3-4 p.m. every day. Meowtropolitan is located in Wallingford, Seattle.
#14 MoPOP
We all know weed is the perfect companion to geeking out over your favorite music, movies, TV shows, or video games. And the Museum of Pop Culture, located in the heart of Seattle Center, is the perfect place to do it! MoPOP has 3 floors of immersive exhibits including a Science Fiction and Fantasy Hall of Fame, a huge Minecraft exhibition, showcases paying tribute to beloved musicians like Jimi Hendrix and Nirvana, and the Sound Lab, where you can play around with real music recording equipment.
MoPOP also hosts live music events and movie screenings. You can choose from the Campout Cinema Series (bring pillows and blankets or a sleeping bag and get comfy on the floor!) or the Reel Dark Series, which includes the opportunity to delve deeper into the movie with discussions and live performances. Both of these movie events include film-themed snacks. But anytime the munchies hit at MoPOP, Wolfgang Puck's Cafe, Culture Kitchen Seattle, is located right inside the museum.
#15 Seattle Great Wheel
Enjoy breathtaking views of Elliott Bay from an enclosed gondola on this 175 foot (60 meters) tall Ferris wheel located close to Pike Place Market. The Seattle Great Wheel offers rides all day and late into the night. Ride times run about 10-20 minutes, depending on the crowd size and how many gondolas are being filled. But every ride is a full 3 revolutions of the Great Wheel. On Friday, Saturday, and Sunday nights, and for holiday events, the 500,000 LED lights that cover the wheel are turned into a spectacular light show.
There is a private VIP gondola for parties up to 4, featuring a glass floor, leather seats, and a stereo system. The VIP package (which runs $50 per person) even includes a t-shirt, photo, and complimentary champagne toast at Fisherman's Restaurant, which is just a few steps away from the Great Wheel. If all guests in the VIP party are 21 or over, you can even enjoy an alcoholic beverage in the gondola, if you so desire.
#16 Pacific Science Center
The Pacific Science Center (also located in Seattle Center) offers a wide range of interactive exhibits and spellbinding entertainment. The museum features living exhibits (plants, small animals, and butterflies), hands-on science areas, virtual reality experiences, and much more. If you just want to sit back and be fascinated, you can also take in an IMAX movie or one of several themed planetarium shows, right there at the museum.
Pacific Science Center's Laser Dome is especially fun to experience when you're high. These hour-long evening shows each feature a mesmerizing laser show set to the music of a featured popular artist (the lineup changes relatively often). The artist selections have ranged from classics like David Bowie, the Beatles, and Pink Floyd, to Tool, Ariana Grande, and Chance the Rapper. The afternoon shows run about 30 minutes and feature music from family-friendly movies.
#17 Chihuly Garden and Glass Museum
Another Seattle Center attraction, this trippy museum features the unique glasswork of Dale Chihuly. This museum is small enough to browse through in an hour or two, but these pieces are hypnotizing enough that you might find yourself here all day! The outdoor exhibition garden is landscaped with glass sculptures as well as flowers and there are 8 galleries to explore inside.
The Chihuly Museum's most beloved (and breathtaking) feature is the glasshouse. This 4,500 square foot room has a 40-foot high domed ceiling, walled entirely with steel and glass. In the glasshouse, a 100-foot sculpture resembling a garland of red, orange, and yellow flowers is suspended in the air above you. The glass room and glass sculpture take on different shades of color and luminescence throughout the day, due to weather and the daily journey of the sun across the sky. You can even take a yoga or barre fitness class inside the glasshouse, or watch a demonstration of the mesmerizing glass blowing process. Private guided tours are available, and there is a cafe on-site, so you can indulge the munchies without leaving this psychedelic little world.
#18 Washington Park Arboretum
This one's actually about a 15-minute drive from Seattle Center. But if you want to get in touch with nature, even in the middle of this huge city, the Washington Park Arboretum is a gorgeous place full of gentle walking trails to explore – either as part of a walking tour or solo. This 230-acre arboretum is split into several differently-styled gardens, featuring plants and flowers from all over the world – and admission is free! There are also free 1-hour narrated tram tours if all of that walking sounds too daunting.
From March – November, the exceptionally beautiful Japanese Garden is also open. The Japanese Garden does charge an $8 regular admission fee, but if you're a college student, senior citizen, or disabled, you can enter for free. The Washington Park Arboretum is located on the shores of Lake Washington, close to the University of Washington campus.
Indulge the munchies, Seattle style!
Naturally, a weed-friendly city like Seattle can be expected to have some top-notch munchie options, and Seattle does not disappoint!
#19 Top Pot Doughnuts
Despite the enticing name, these doughnuts sadly don't come laced with weed. However, they just might be the best sweet-tooth stoner snacks ever! Top Pot still makes their doughnuts by hand, following an original 1920s recipe, and there are over 40 doughnut varieties to choose from. There are currently 11 Top Pot locations all over Seattle and more sprinkled through the suburbs. Or, you can order a batch of these amazing doughnuts and have them delivered right to you!
#20 The 5 Point Cafe
For comfort food, any time of the day or night, this old-fashioned yet irreverent 24-hour diner located close to Seattle Center has what you need! The 5 Point has indoor and outdoor seating, music blaring from jukeboxes, stiff drinks, and a menu that covers everything from breakfast burritos and French toast to nachos, steaks, and build-your-own burgers. Any case of the munchies can be sated here, with novel (and delicious!) specials like Peanut Butter Cap'n Crunch pancakes topped with whipped cream, peanut butter, and chocolate sauce or deep-fried bacon-jalapeno mac-and-cheese balls.
#21 El Borracho
This easy-going taco place is located by Pike Place Market, (with a second location in Ballard, Seattle) and they're open until 11 pm (midnight on Friday and Saturday). The Ballard location stays up even later, until 2 am seven days a week, with a late-night taco happy hour starting at 11 pm. El Borracho is "kid-friendly" only until 5 pm (until 4 pm and all day Sunday at Ballard), so you can rest assured that you won't be awkwardly stuck seated right next to a family at dinner.
In addition to their unique taco and burrito selection, El Borracho has an impressive array of vegan versions that taste just as good. The bar serves up top-notch margaritas as well as non-alcoholic mixed drinks. And perhaps best of all, taco happy hour is every day between 4 and 7 pm. It's hard to resist "Damn Near $1 Tacos" when there are so many tasty options to choose from!

---
Seattle has everything you need for a cannabis vacation!
With classy dispensaries offering locally grown weed, cannabis tours to take you behind the scenes, unique lodging that caters to cannabis junkies, and enough stoner-friendly activities (and food!) to keep you busy for weeks, Seattle is a must-visit for any cannabis lover!
Did we miss anything? Let us know! We'd love to hear about your favorite Seattle activities for the perfect cannabis vacation!