The Complete Guide to Cannabis Tourism in Toronto
A traveller's manual for smoking, buying and experiencing cannabis culture in Toronto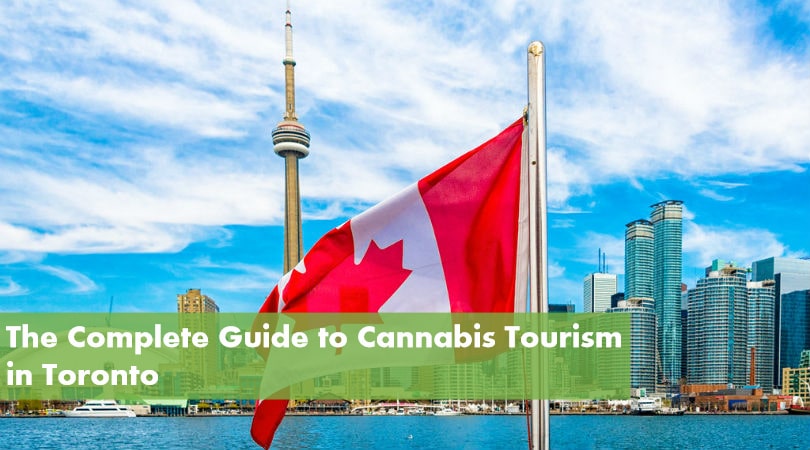 Canada is known for its cold, white winters and its beautiful wildlife and nature scenes. Millions of tourists visit Toronto, a major city located in the province of Ontario, each year to explore the city life, tour iconic structures such as the CN Tower and enjoy an abundance of different types of food and the people's kind hospitality. Toronto is known to be accepting to all communities, ethnicities, religions and personal preferences. Marijuana is no exception! As of October 17th, 2018, smoking and possessing cannabis became legal nationwide in Canada, allowing residents to smoke recreationally, with each province having its own laws in place to protect the general public from negligence.
Toronto Marijuana Laws
In Ontario, you must be at least 19 years of age to purchase, possess and grow recreational marijuana. Much like cigarettes and alcohol, it is illegal and considered a criminal offence if an adult buys or shares marijuana with minors. Marijuana is sold in certified Ontario Cannabis Stores and you are able to make an order of up to 30 grams online or in-store and each household is allowed to grow up to 4 plants. Buying cannabis or cannabis seeds from sources other than the Ontario Cannabis Store or other designated, federally approved dispensaries is still considered illegal.
Weed can be smoked in private residences, both inside and directly outside of the home, such as on a porch, backyard or balconies. Smoking in public places, such as parks and sidewalks, is also permitted. However, locations such as private, government owned residences, school and workplace environments, restaurants, in cars (while driving or while parked) and large, publicly owned arenas/stadiums is strictly prohibited and can result in your arrest and a fine, ranging from $1000-$5000, depending on number of repeat offences. These rules are in place to protect youth from second-hand smoke and exposure to marijuana.
Now that you understand the rules and regulations surrounding cannabis use in The Six, you can venture out to the downtown core, where there is a rich cannabis culture, filled with dispensaries, hemp shops, restaurants and various activities for all to enjoy!
Getting Started: The Best Places to Buy Weed in Toronto
Cannabis Dispensaries in Toronto:
Toronto has many locations to purchase weed during your stay in this beautiful city. Recreational cannabis is perfectly legal, as long as you do not exceed 30 grams at a time on your person and you have the good sense to purchase weed from designated retail locations, certified by Ontario. Your purchase will be subjected to 13% tax, as is the usual for any establishment within the province. Below are a few dispensaries we highly recommend to our loyal readers.
#1 The Hunny Pot
Located in the very heart of Toronto's downtown core, The Hunny Pot was the very first legal pot shop in the city, opening its doors to customers on April 1st, 2019. They pride themselves on offering the highest quality products, from prerolled joints and dried cannabis to the highest grade bongs and pipes. The Hunny Pot makes it their mission to educate youth and eradicate the stigma that surrounds cannabis use, medicinal or otherwise.
The Hunny Pot boasts that their staff is unparalleled, offering a one on one experience, where they educate and make recommendations on the weed that is right for you. Whether you are searching for a Sativa or Indica strain, they have it all, as the store is four stories high and has every type of pot, from CBD to THC.
Weed is sold for recreational use. They offer sprays and capsules but do not offer edibles as of 2019.
#2 Canna Cabana
Located on 435 Yonge Street in downtown Toronto, Canna Cabana prides itself on high quality cannabis products, from offering a large variety of strains to exceptional bongs, pipes, vapes and papes, this Canadian dispensary has it all!
Canna Cabana can be found across the country, in Alberta, Ontario and Saskatchewan. Their main goal is to provide relaxation and relief to their devoted Canadian clientele, offering high grade weed and paraphernalia in a comfortable, educational environment, with professional customer service and qualified recommendations. They offer a personable experience and aid their customers in finding the strain that is right for their lifestyle, whether used for medicinal or recreational purposes.
Canna Cabana also has a blog, where they discuss all things cannabis, including laws and regulations, different types of strains, storing marijuana safely and much more.
Whether you are looking for Sativa or Indica, CBD or THC, this dispensary has it all!
Cannabis delivery service:
#3 Ontario Cannabis Store
The Ontario Cannabis Store is the province's official website for ordering legal weed in Ontario. Their website is easy to navigate, making it user friendly and convenient for ordering cannabis straight to your door. The site offers a wide range of dried flower, capsules, vapes, oils and sprays, allowing their consumers to purchase up to 30 grams at one time with just your billing and shipping information; there is no account registry required.
They provide thorough descriptions of the product you are purchasing, with THC and CBD profiles so you know exactly what you will be inhaling or ingesting. OCS accepts many forms of payment, including Visa, Mastercard, AMEX, Visa Debit, pre-paid cards and international credit cards, making it simple and versatile to use for all customers.
As for delivery options, OCS offers Xpress post at a $5 flat rate across Ontario. Most orders will arrive within 1-3 business days. However, you can also order same-day and next-day delivery for an additional charge, making shipping charges about $12 and $10 respectively. All shipping is charged an additional HST cost, which will bump up the price. Although this may be expensive and unnecessary to some, the convenience, variety, customer service and legal product this site offers is well worth the splurge. As of 2019, there are no other sites that offers LEGAL cannabis delivery within T.O.
420-friendly places to stay in Toronto
Unfortunately, there are no cannabis friendly hotels in Toronto as of December 2019. With the rise of weed users and consumers, there will undoubtfully be accommodations that are 420 friendly in the future. However, there are other options if you want to sleep and smoke in the same location.
www.budandbreakfast.com is a website that lets you see local Airbnb's in the area that offer sleeping accommodations and allow the recreational and medicinal use of marijuana. You simply visit the site, put in the location you are travelling to, the number of guests and the dates you wish to travel and the site will pull up a number of private residences that are not only weed tolerant, but are often weed enthusiasts. The locations are often scattered across Ontario so you may not get a prime downtown Toronto residence. However, this is a great way to explore the beautiful province and enjoy the clean, fresh air of Muskoka or the small town life of Hamilton, Guelph and Windsor.
Adventures and activities
Cannabis tours:
#4 Canada High Tours: Toronto
With all of the activities available in Toronto for locals and visitors alike to enjoy, cannabis tours is a great way to explore the city. There is nothing better than experiencing the beautiful sites of the city than by discovering new places while enjoying a spliff with like-minded people.
Canada High Tours is a company that hires local weed enthusiasts to show the best parts of the city from shopping in Kensington Market, viewing the graffiti that cover the old, brick buildings or walking along Toronto's Waterfront.
There are many tours that this company offers at different price points and although they do not sell or offer their customers marijuana, they encourage you to bring your own, so that you can smoke while they guide you along the best sights in the city. Canada High Tours are fully up to date with the rules and regulations surrounding smoking in public and list their expectations on their website, which is easy to navigate and extremely user friendly. Visit Canada High Tours website if you are interested in learning more about this innovative and exciting way to sightsee in Toronto!
#5 Toronto Toke Tours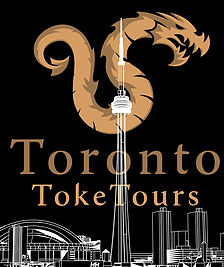 From a behind-the-scenes peek at Toronto's marijuana industry, to joint (and sushi) rolling classes, cannabis cooking lessons, and even excursions to a scenic farm with gorgeous views and cute animals, Toronto Toke Tours has something for every cannabis fan! For those traveling alone or in small groups, their daily 2-hour walking tours take you on similar adventures to the regular tours, but in a quieter, more personalized way.
Toronto Toke Tours also offers ganja yoga classes and luxurious massage treatments (both begin with vaporizing sessions to elevate your relaxation experience). Their party bus and limo are available to make your weed-friendly bachelor party (or any night out!) even more exciting. But even if you don't feel like leaving your room, Toronto Toke Tours' VIP service can deliver cannabis, food, alcohol, and accessories to any hotel in the Greater Toronto Area! Check out their website for current tour times and to choose your own adventure!
More fun for stoners in Toronto:
#6 The Royal Ontario Museum
When in Toronto, it is mandatory to visit one of the most iconic and well known museums in the city: The Royal Ontario Museum.
Located on 100 Queen's Park in the downtown core, the ROM is known for its beautiful architecture and constant rotation of interesting exhibits. Currently, as of December 2019, there are 7 different exhibits to choose from, such as, "Bloodsuckers: Legends to Leeches" and "Designing Asian Design." The exhibits are always fascinating, well presented and interactive, with guided tours and activities for the whole family.
Since the Royal Ontario Museum is, obviously, government owned, smoking of any kind is strictly prohibited within its walls. However, you are free to get high and roam the many rooms of interesting installations, as long as you act respectable and courteous to other guests. The ROM is Canada's largest museum, boasting a collection of over "13 million artworks, cultural objects and natural history specimens" in over 40 spacious rooms.
This historic building is a sight to behold and going there high will definitely make for a memorable experience.
#7 Chinatown
When in T.O, vising Chinatown is an amazing opportunity, especially stoned. Located on and around the intersection of Spadina Ave and Dundas Street West, this beautiful market transports you to a different country, with its sights, smells and surroundings.
Toronto's Chinatown is one of the biggest of its kind in North America, boasting a large population of Chinese, Vietnamese, Thai and Japanese citizens, all offering beautiful clothes, knick-knacks and home decorations for their clientele. Besides the souvenirs, the food is some of the best in the city. Offering delicacies from all over the world, such as sushi, ramen, roast duck, dumplings, soups, desserts and more, Chinatown is always busy, filled with hungry customers, both locals and visitors.
The best time to go would be during the morning or early afternoon, since there is a lot of ground to cover. Chinatown is especially enjoyable when you have the munchies!
#8 Toronto Islands
Every local will highly (no pun intended) recommend visiting the Toronto Islands, especially in the warm and sunny summer months.
There are many small islands to choose from but the most popular is Centre Island. The best part? You have to take a ferry! Smoke before getting on board and you will enjoy a 15-minute ride on the beautiful blue waters of Lake Ontario.
Once you arrive, there is a variety of activities you can do, such as renting a bike, going on the amusement part rides, buying local food or just sitting on a bench by the wide open lake and enjoying the view. The best part? Cannabis is allowed at the islands! There are rules in place, such as to stay away from child populated playgrounds, designated swim areas, public buildings/restaurants and sports arenas. This is obviously to protect youth from exposure to smoke and cannabis related products.
So hop on a ferry, explore the islands and take in the beautiful scenery; all while stoned!
#9 Snakes & Lattes
With 3 locations scattered across Toronto, Snakes & Lattes is a premium café packed full of healthy, delicious food, refreshing beverages and, best of all, a wall stacked from floor to ceiling of board games! With over 1000 games to choose from, this innovative café costs only $8 per person and you can stay and play until their closing time, which varies from midnight-2 am, depending on the day.
The menu is diverse, offering vegetarian, vegan and gluten free options as well as a variety of snacks, drinks and, as of recently, alcohol. The staff is incredible sociable and friendly and are trained to know every board game in the house, offering help and explaining instructions when needed.
Due to the popularity of this place, they do not take reservations and are on a first come first served basis. The lineups may be long, but once you give the hostess your name and party size, you can explore the neighbourhood. Snakes & Lattes staff will text you once your table is ready! What better way to spend the evening then to get high with your friends, order food and play games?
#10 Ramen Raijin
Serving some of the best ramen dishes in Toronto, Ramen Raijin is a popular Japanese restaurant with reasonable prices and delicious, fresh food. Got the munchies? This is the best place to go to fill that insatiable hunger.
The restaurant is quite large, offering a back room for additional seating. The decorations are original Japanese woodblock prints and statues, making you feel like you are truly in their homeland. Once you walk in, you are greeted by all the staff at once. There is usually a small line due to its popularity, but the line moves quickly as the food is prepared swiftly and expertly. The menu offers a variety of soup bases and ingredients, as well as an option to add sides and extras to your meal. They also offer desserts such as Japanese ice-cream and home made puddings. Order a sake with your meal to make it a true, authentic experience!
#11 Korean Grill House
This is a great restaurant to go to when you and your friends have some serious munchies.
Korean Grill House is a Korean chain with multiple locations. It is all you can eat, offering a menu with a wide range of meats, such as pork, bare shrimp, squid, beef short ribs, lamb, chicken and fish. You then grill it yourself, right at your table! The meat is marinated and seasoned well, thinly cut for faster cooking time and served rare. Although usually packed full of hungry customers, this place always smells good and the atmosphere is relaxed and positive. The staff are very busy but usually extremely helpful, especially when it is your first time grilling by yourself. Once your grill gets dirty, they will switch it for a clean one to ensure better tasting food and faster cooking times.
Ranging between $24-$27, depending on the day and the meat combos you choose, this authentic Korean restaurant is definitely worth checking out with friends and family, especially while stoned.
In a Nutshell
Toronto is a diverse and interesting place, filled with cultures and religions from all over the world, each bringing their own traditions and customs to this beautiful city. Known for their gentle demeanors and accepting personalities, Canadians are a proud bunch that have so much to offer travellers.
Luckily, Toronto is an accommodating city that allows and, often times, encourages the use of medicinal and recreational marijuana for the mental and physical well-being of its citizens. Toronto offers its many visitors a multitude of delicious restaurants, interactive museums, nightlife and natural sights to explore. With so much to do, The Six is making its mark on the map, especially for enthusiastic aficionados of marijuana.
Did we miss anything? Let us know! We'd love to hear about your favorite Toronto activities for the perfect cannabis vacation!