The Top Cannabis Books to Have in Your Personal Library
Delving into some of the best cannabis books out there to help you learn about growing, consuming, and integrating this miracle plant into your life.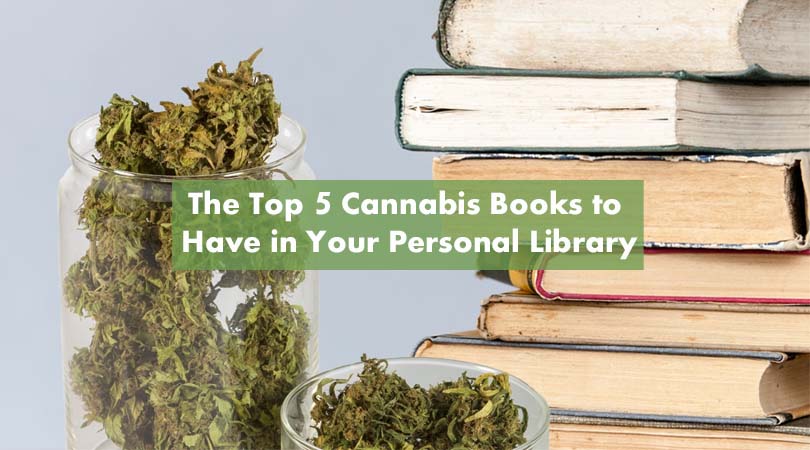 The cannabis industry has exploded in popularity in recent times. It slowly starts to escape the past stigma, which has led to a lot of new media being published to help you on your cannabis journey. One of the more exciting developments has been a range of great books that you can leverage to upskill yourself and learn about this wonderful plant that the world is raving about.
There are many different types of cannabis books that give you a different perspective on a multi-faceted industry. Some books provide the history of the plant and its usage. Others are educational in nature – teaching you how to grow it, with others still weaving narrative and education together in a way that can be incredibly compelling. They each have their place, and any self-respecting weed enthusiast would do well to consume the knowledge in these books.

Cannabis Books Will Expand Your Cannabis Knowledge
But where do you even start? Don't worry. We've got you covered. Here at 10Buds, we've been lucky enough to have been exposed to a vast range of different cannabis books in every context imaginable. This is definitely a burgeoning media form, and sometimes we're even taken aback by how many different options are out there.
In this article, we'll run through the best cannabis books out there, old and new, that you should be adding to your personal library.
We've selected these books based on a number of factors including the author's reputation, the writing style, reader reviews, topic, and many more. It was not easy to narrow down our favorite five, but after some deliberation – we're confident that we've got the best of the best. We've done the research, so you don't have to.
Let's dive in.
'Grass Roots' by Emily Dufton
The first book you have to have on your shelf comes from drug historian, writer, and researcher Emily Dufton. She has led an extremely successful life bringing key misunderstandings, societal reforms, and drug policy into the mainstream – in her attempt to wade through the preconceived notions that many people still hold when it comes to plant-based medicine.
This book, 'Grass Roots', is an absolute masterpiece in this regard. She's been able to pare down all of the major cannabis-related topics into a narrative that shows just how far we've come as a society in uncovering the power of marijuana.
The book stands out above the rest because it's the only complete history of cannabis activism out there.


It tells the story of how a determined group of activists fought against the powers that be over decades to bring this wonderful plant into our midst in mainstream society. She is incredibly eloquent in discussing the social, political, and personal challenges that had to be overcome in order to get us to where we are today. You can feel the passion and emotion pouring out of each page as she describes all that it took to bring this plant into public consciousness after being buried by bureaucracy for all this time.
Once you finish reading 'Grass Roots', you'll have a much more nuanced and complete understanding of why it took us so long to legalize this drug, and it should give you a glimpse into what's possible as we look forward into the future.
'A Woman's Guide to Cannabis' by Nikki Furrer
Nikki Furrer brings humor and style to her writing that is all her own, and it's in splendid display in this 'Woman's Guide to Cannabis'. She knows what she's talking about, too, as she is the CEO of Fleur, a cannabis company that focuses specifically on using the plant for women's health. As one of the leading female figures in the space, she has done an incredible amount for women, and this book is no exception.


She's been able to compress all of her learnings through years in the industry into this very fun read that waltzes through some ways that women can use weed to feel better, sleep better, and look better.
Even though the style is informal and very accessible, she manages to pack a tremendous amount of information and value into each chapter – which will give you everything you need to get started on this journey.
If you are a woman who wants to leverage the benefits of marijuana sustainably, then this is the book for you. The range of topics it covers is wide, but you don't have to read it cover to cover. It's actually designed more as a choose-your-own-adventure so you can jump in and out as you wish. It serves as an excellent reference for all those questions you've been too afraid to ask.
You simply won't go wrong with this one. There's enough value packed in here for a lifetime.
And you can sample it, one bite at a time.
'Bong Appetit: Mastering the Art of Cooking with Weed' by Munchies
Speaking of bites, let's now turn to food.


As the name might suggest, 'Bong Appetit' brings a classic cookbook-style to the world of weed cooking. The team at Munchies has scoured the world looking for the very best recipes to share with you and have compiled them into this action-packed book.
They've delivered an exceptional range of recipes that can help you incorporate cannabis into your favorite dishes.
This book goes far beyond your typical weed brownies and brings a culinary discipline and experimentation to cannabis in a way that we've never seen before. As you page through the book, you'll find recipes for weed butter-basted chicken, weed chimichurri, weed brownie sundaes, and much more. Every single page delivers a brand new food experience that will take your breath away. And they range from the simple all the way to the fine dining experiences that you can wow your friends and family with.
Another thing that makes this weed cooking book unique is its meandering thoughts on taste pairings, dosage tips, and other valuable tidbits that will bring you up to a new level of understanding when incorporating weed into your food. These linking pieces make this so much more than just a cookbook because it teaches you principles that you can go and apply on your own, even if you don't use the recipes themselves. It's a magical compilation, brought together by information dense tidbits – and we can't wait for you to get your hands on it.
This is the only weed cooking book you need, honestly.
'Marijuana Grower's Handbook' by Ed Rosenthal
If you are looking to grow your own cannabis, then this is the book for you. There are many different growers' guides out there, but Ed Rosenthal manages to stand head and shoulders above the rest with this one. You probably didn't think it was possible to cover so much in one volume, and it's only when you get the book in your hands, and you start to page through, do you realize what a monumental achievement this actually is.


The range that this book covers is unbelievable.
It manages to stay highly accessible for beginners while also giving advanced growers the additional information they need to level up their operations. We haven't found many other books that can do this elegantly. It also covers a wide range of strains, indoors and outdoors, to give you the ultimate coverage across the diverse world of marijuana. Anything and everything that you can think of is in this book.
The book is 500 pages long with vivid color illustrations and precise descriptions so that you are never in any doubt as to how to supercharge your weed growth. By following the practices here, you'll be amazed at just how productive your weed growing can become. It's so well respected, in fact, that it has started to become an industry-standard both in practice and in academia – which speaks volumes about its comprehensiveness and informational quality.
All of this comes from Ed Rosenthal, who remains one of the leading horticultural experts in the field after decades of focused work to break the stigma of these plants and bring healing and enjoyment to us all.
As an author, educator, activist, and pioneer – we're incredibly lucky to be able to pull from his knowledge in the form of this book. It's world-class.
'Higher Etiquette' by Lizzie Post
The final book we want to recommend comes from Lizzie Post, a Post family member who has created an empire around etiquette in every sense of the word. This book 'Higher Etiquette' brings that same rigor to marijuana in an attempt to help us integrate the plant into our lives in the most socially acceptable way.


It says a lot about how far we've come that this book was even written, and to see cannabis explored in this fashion is a huge boon for the industry. The book covers a range of important topics, including bringing weed to a dinner party as a gift, the differences between eating it and inhaling it, how to behave at dispensaries, and much more.
Every chapter is extremely practical and can help you grip on all the various social conventions that come with weed in your daily life. This is a crucial piece of the puzzle because what holds this industry back is the social stereotypes about what marijuana users are all about. It's books like these that help us push against those lazy labels and craft a new generation of weed enthusiasts.
Many might look at the title and think it's not really for them – and we really encourage you to ignore that perception.
There are some incredible hidden gems here, and you'll find that you're picking up crucial learnings without you even realizing it. The class and sophistication that this book provides can change your entire perspective on cannabis as a whole. It shows what is possible when we loosen the chains of the past and look forward to a future where weed plays an integral role in society.
It's a future that we find very exciting, and we know that this book will deliver value to you. Just trust us.
Conclusion

So, there you have it! Those are the best cannabis books that we could find, and we encourage you to grab them today. Each one offers a slightly different perspective and viewpoint, which can be extremely valuable as you're making your way into this new world. Use these books as references to help guide you along the journey, and you'll never be far from the path.
We think that by combining these different perspectives, you'll be able to upskill yourself while also learning about the long journey it took to get to where we are. It's with this nuance that you can begin to appreciate the power of this movement and just how fruitful the future can be.
Hopefully, books like these can inspire a whole new generation of educational material that can propel the weed industry forward and continue to fuel its accelerating momentum. It's through engaging with these authors and worldwide experts that you can get your hands dirty and become a part of this growing community.
These books are portals to another world where you can soak in decades of knowledge in just a few hours of reading – which is something that's still mind-blowing to us.
There's never been a better time to start learning about this stuff, whether you're a grower, consumer, or activist. The future is bright, and we owe it to ourselves to make these books part of the growing canon of cannabis literature.
This is only the beginning.
Have you read any of these books? Are there any that we've missed? We'd love to hear from you about your favorites, and if you do give any of these a try – let us know what you think!